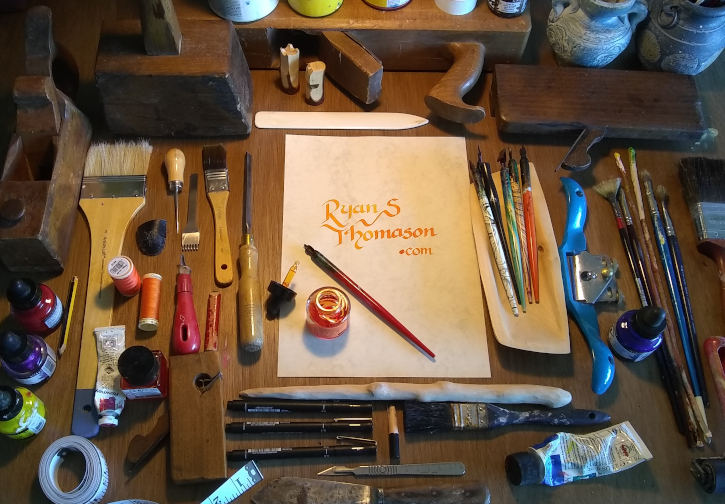 I am a freelance calligrapher, illustrator, painter, printmaker, and craftsman raised in Shetland and living in Broughty Ferry, Scotland. My keystone is William Morris' quote:
"Have nothing in your house that you do not know to be useful, or believe to be beautiful."
Other important influences include Joan Eardley, Mucha, Margaret MacDonald, Sister Corita Kent, Saul Bass, Jackson Pollock, Mark Rothko, Turner, medieval illumination, and folk art. In art, I seek to put my hands under the surface of my subject matter, exploring the physicality that comes from touch, and conveying the internal fireworks lit by books and music.

I have worked with clients around the world, including American and Australian game designers, New Zealand wineyards, and Scottish greengrocers, with other projects safely delivered to thirty US states and most of Europe. My calligraphy projects have included work in a variety of hands, with uncial, italic, and copperplate being particular favourites - Japanese, Punjab and Elvish scripts have also featured.

My craft projects use reclaimed and sustainable materials wherever possible, and have included furniture restoration, sidetables made from a single tree, upcycled leather bookbinding, and turning apple tree prunings into chess sets.

I am always happy to discuss my work, and I am currently available for commissions of any size - please check the contacts page for more details.