Ryan S. Thomason
Calligraphy
Illustration
Mapmaking
Bookbinding
Abstract Art
MoMori
Printzoo
Shop
About,

contact
Commissions
and prices
News
and noise
Print Zoo is where my less-serious work lives, cartoons made into lino-cuts and printed on cotton t-shirts or shopping bags. The shop can be found in the sidebar.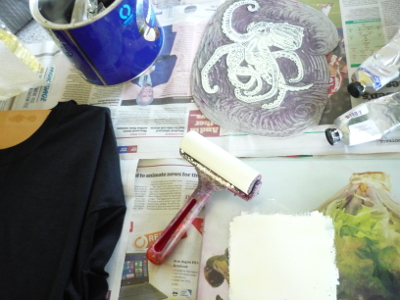 A cut piece of lino, inked and ready to press.
The finished print, ready to hang for drying.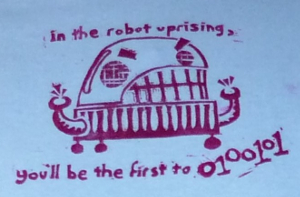 Robot is not happy. 0100101 is robot shorthand for a fate too terrible for mere humans to comprehend.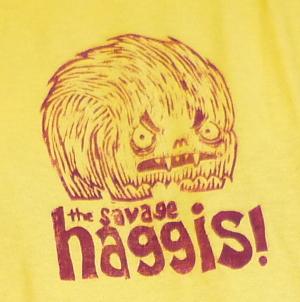 Haggis are not only real, they are the fiercest creature in Scotland today. If disturbed, they unleash a torrent of abuse the likes of which few people can survive, enough to break stone at forty paces.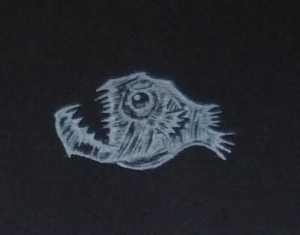 The one good thing about this fanged horroration is that it's extremely unlikely to show up in your bath.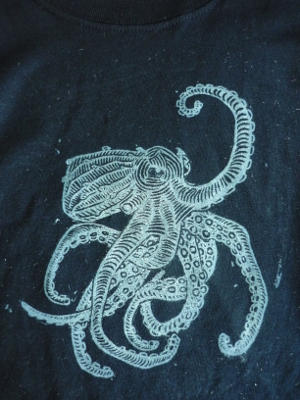 Octopus is annoyed at the ceaseless grind of modern life and the neverending stream of bad news. Or maybe it's just lining up to punch a clown.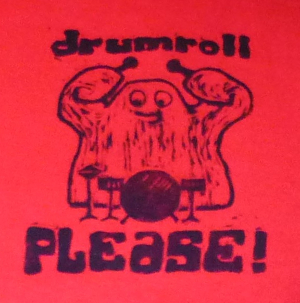 Drumroll has, when printed on children's clothing, been known to increase volume by up to 15%. I do not apologise for this.